11D Sensor makes physics lessons thrilling
Administrator
August 2013: In Berlin holidays are over and lessons have started again. The members of the physics club of the Barnim-Gymnasium could hardly wait to start school again. For them to carry out experiments in everyday life the electronics engineers of APE GmbH have developed the 11D-Sensor. This device, not bigger than a few centimeters, measures acceleration in 3 axes (x, y, z), torsional moment in 3 axes (rolling, pitching, jawing), barometric pressure, temperature, and magnetic field in 3 axes (x, y, z).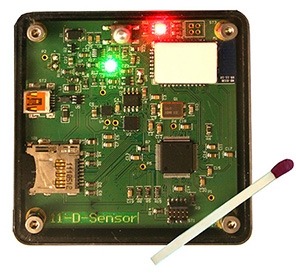 Measured data is transferred to a computer via Bluetooth, where it is stored and graphically displayed. In addition, data is stored on an integrated SD card. With just a little bit of imagination a lot of physics experiments can be conducted. What happens to a ball (with the sensor inside) falling out of a window? In which way does the barometric pressure change in an elevator moving inside a building? Which acceleration acts onto the passenger during a rollercoaster ride?
The 11D Sensor will not become part of APE product portfolio. The aim was to inspire high school students in science. Perhaps it helps that more young people will start a career as a physicist or an engineer.